NOSO
When the classic elegance of French cuisine meets the exuberant flair of Mediterranean kitchens, culinary sparks will fly.
The acclaimed French chef Sebastien Fontes takes the cuisine of NOSO to new standards, with an innovative vision, his fabulous take on the Chilean cuisine sets NOSO apart, thanks to its unique environment, in a setting of chic, modern decor accentuated by chocolate and white hues and casual elegant service.
You'll see why Fontes is one of the top chefs in South America when you embark on an epicurean exploration of his NoSo menu, a seasonal palette bursting with imported and local "terroir" ingredients. From the fresh Chilean seafood to the exquisite fruits from our region, the menu features a selection of succulent seafood from a chilled marble display and duck foie gras imaginatively paired with elements such as spiced honey sauce and leek truffle cream. Seafood is also prepared in a variety of masterful presentations—Chilean hake with merquen-flavored piquillo peppers and corvina with fennel confit—while hearty flavors of the land are served in the Patagonian lamb with eggplant couscous and beef parmentier with pinot noir sauce. Go for the full NoSo experience at the impressive wooden chef's table framed by the display kitchen, or get intimate in the private dining room that seats up to 25 in plush red chairs under blue glass chandeliers.
True to Chilean spirit, an extensive wine list spotlighting renowned labels from the wine cave accompanies lunch and dinner, while the pastry chef sweetens the deal with a marvelous mix of dessert mojo—crispy layered berries with vanilla cream, meringue floating island with caramel, and the decadent chocolate lava cake with milk ice cream. Come back and do it all over again at breakfast with a power-packed selection of fresh juices, milks, fruits, eggs, cereals, pastries, and cold plates, or start the day in style with our spectacular Saturday and Sunday brunches.
| | |
| --- | --- |
| Cuisine: | International |
| Atmosphere: | Modern and Dynamic |
| Setting: | Signature Restaurant |
| Serving Style: | À La Carte |
| Dress Code: | Casual Sophistication |
| | |
| Smoking Permitted: | No |
| Hours: | 6:30 AM - 10:30 AM; Monday - Friday 12:30 PM - 3:00 PM; Monday - Saturday 7:30 PM - 11:30 PM |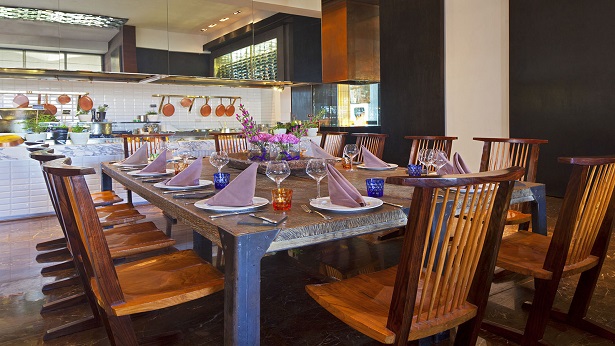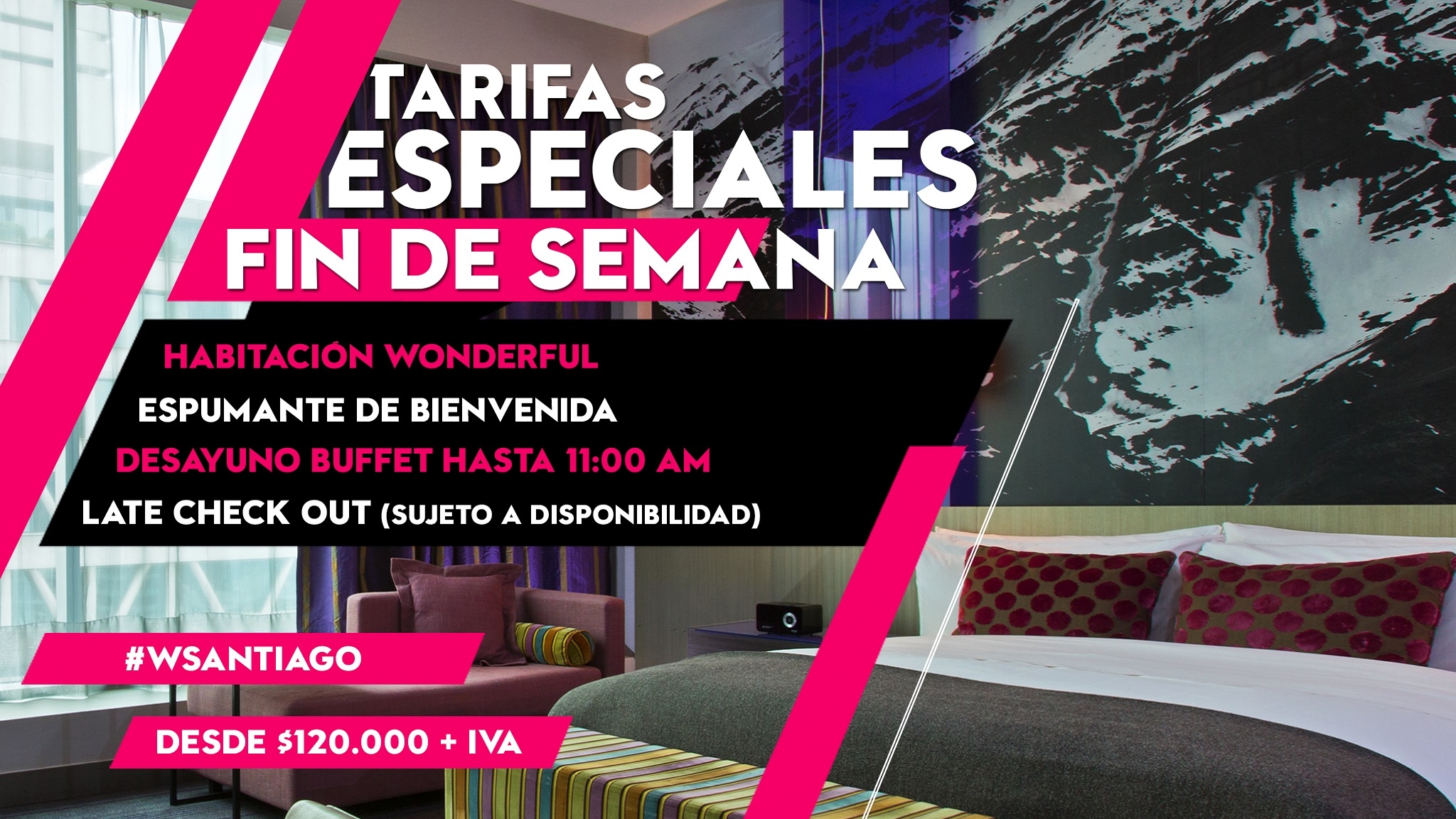 ---
Amp Up Your Escape
Make your experience at W Santiago is supreme Breakfast in NoSo. Check out 14:00.
Sparkling wine bottle.
Dinner at NoSo / Terrace / Osaka, consumption on demand up to 50.00 usd nonrefundable only used in a restaurant and can not be used separately to the day of booking.
Parking.
Access Whiskey Blue
Valid for arrivals from Thursday to Saturday.
Terms & Conditions
© 2018 Marriott International, Inc.