W Insider Santiago
Andrea Licastro
Each of the W Insiders hold the key to connect with the latest and the most unique experiences, inside and outside the hotel.
Andy is always seeking the latest trends related to music, design, fashion, wellness, gastronomy and others. She will immerse you into a fascinating world where you will have inclusive access to the most exclusive events of Santiago. Feel part of Santiago by delighting your palate with the finest cuisine, the most prestigious wines and going to the coolest and most exuberant places in town. Andy will be undoubtedly your best friend during your trip. Tips, suggestions and privileged access to extravagant places are some of the aids that she will offer you. Do not hesitate to contact her!
To begin with, I am from Argentina but I have been living in Chile for a year. Upon arrival, I noticed the difference in lifestyle. However, in no time I fell in love with Santiago; and how could I have not if this city is the perfect example of versatility. From the contrasting landscapes that you can admire, as the majestic Andes Mountains range, the countless wines and dishes you can savor, the most varied sports you can practice to the most unique places you can visit; Santiago is definitely a city full of surprises.
On the other hand, I am passionate about sports. In fact, I am a fan of trekking and fortunately Chile offers me the opportunity to practice it. So, honestly, I tell you: Chile allows you to make your dreams come true… A truly borderless world! Also, I love to be in the search of the newest and coolest trends. So, when you come to Santiago, do not hesitate in contacting me to provide you with more tips and "WOW" suggestions of the capital that will make your stay even more wonderful and memorable!
Exclusive Offers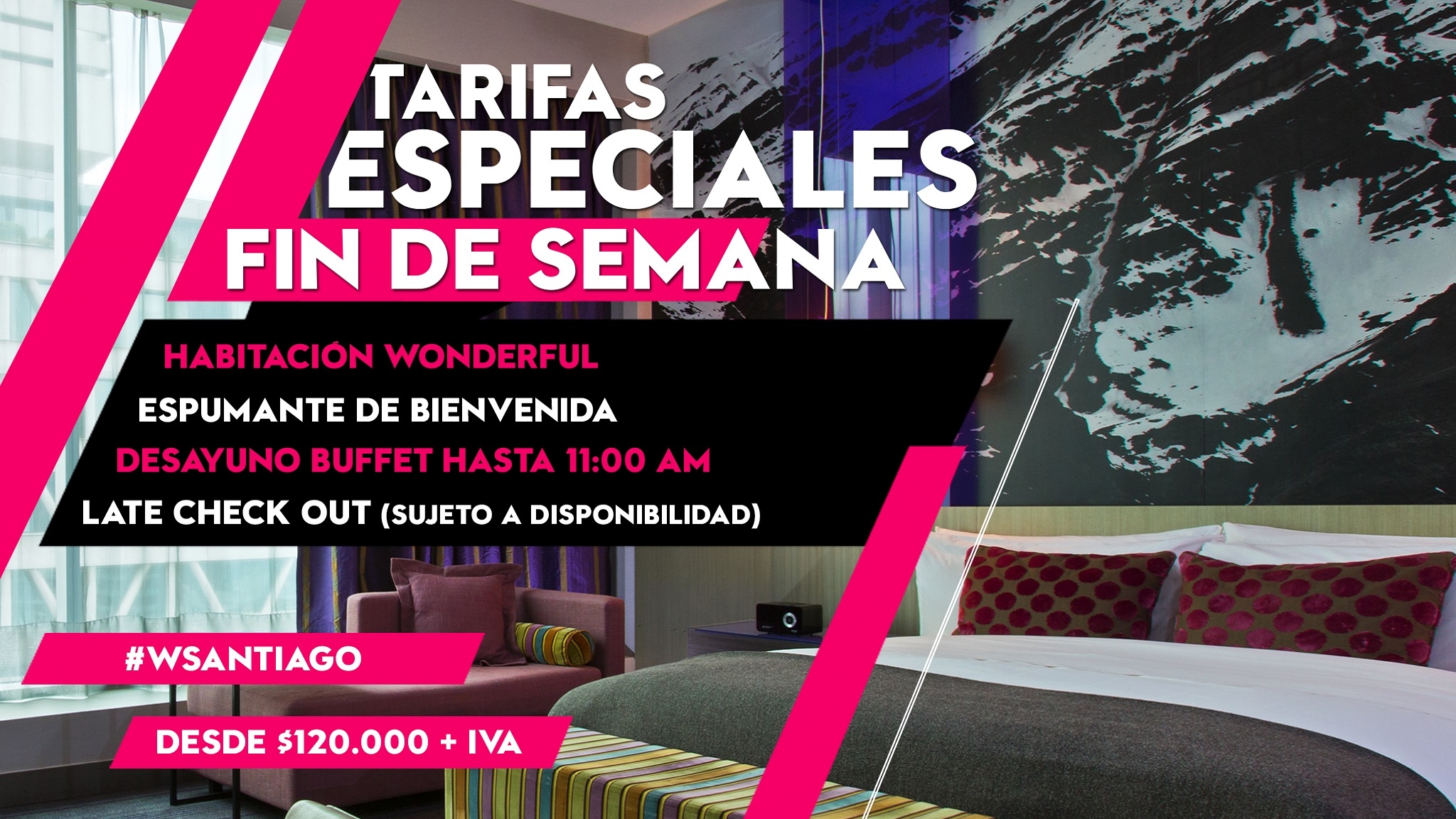 ---
Exclusive Offers
Amp Up Your Escape
Make your experience at W Santiago is supreme Breakfast in NoSo. Check out 14:00.
Sparkling wine bottle.
Dinner at NoSo / Terrace / Osaka, consumption on demand up to 50.00 usd nonrefundable only used in a restaurant and can not be used separately to the day of booking.
Parking.
Access Whiskey Blue
Valid for arrivals from Thursday to Saturday.
Terms & Conditions
© 2018 Marriott International, Inc.